Connect with Peter on LinkedIn!
---
Since the election of Donald Trump US markets have risen dramatically, confirming that selling before the fact was well overdone. The US continues to produce improving economic statistics, inflation and interest rates could be rising, alleviating the fears about a deflationary spiral.
I have observed with slight amusement many market commentators turn from doom and gloom to buy and boom, perpetuating the illusion trading and investing is about getting it "right", rather than working with what is probable. Global markets were oversold before the election and are correcting back up to where they would have been without all the illogical worry that Trump would cause instant Armageddon.
For the trader and investor, market pullbacks are by far the most challenging. For example the chart below shows the rises and falls of my recently launched eBook system for the ASX 300, rising from 100K to around 340K over the last 3 years.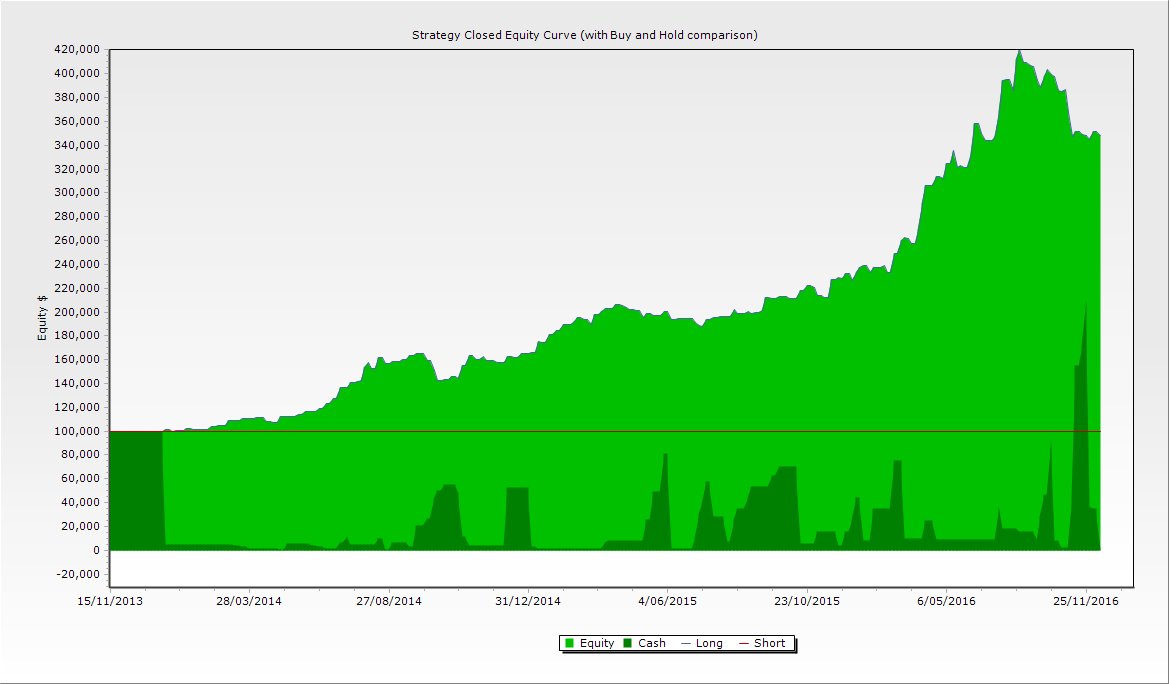 The portfolio shows an impressive light green equity curve and the dark green being cash held. Look closely at the right side of the chart, note that during the Trump dump (when stocks got sold before the election) the portfolio went to half in cash, selling weak stocks and holding strong ones. However at the time of writing, the system is fully invested back in the market, indicating that the boom and buy commentators are confirming what this graph is saying, the market is strong and many are buying.
No one likes to see a pullback like the recent one, but in hindsight you can see the rise before the fall was fast and sharp, a correction begging to happen. Using a perspective of probability, and from a mindfulness view operating in the present moment, it looks like business as usual.
The launch of my eBook a few weeks ago has shown quite a lot of interest, if you would like to know more about Trading Mindfully using Winning Probability, click on the link below. The book is designed for beginning to intermediate traders, but judging by emails from experienced traders it has certainly got them thinking…………………….
http://www.easysharetradingsystems.com.au/products-and-services/e-books
Here is a recent testimonial
"I would like to complement you on your e-book & I like the way you have shown how & why your method works, based upon evidence. I have wondered why traders use a 52 week high & does it work etc. Not many share market trading books or presenters trading systems are backed up by evidence or back testing, equity curve, win loss ratio etc. "
Regards
Frank (Melbourne)
---
If Facebook is more you thing, friend him here!